The watches that went to the Moon are back – on Earth this time, not in orbit – in a collaboration between Omega and Swatch.
Omega and Swatch have teamed up for the colorful 11-piece collection Omega x Swatch Speedmaster MoonSwatch.
The watch worn by astronauts on Apollo missions, the Omega Speedmaster Professional aka "the Moonwatch", is an absolute icon of style, functionality, and history.
Today the "Moonwatch" is highly collectible and even a grail watch for many. As of 2022, the price can range from around 5K to 50K depending on the variant. The fact that there's now a version available for just $260 with Swatch co-branding might upset a purist or two. But most true watch nerds as well as the average Joe's think it's downright cool.
Branding For The Future
Color variation is nothing new to Omega. Omega has been the official timekeeper for many Olympic games since 1932, proudly displaying themselves alongside that iconic colorful Olympic logo – almost as if they've been prepping us for this colorful collection all along…
---
The new Omega x Swatch Speedmaster MoonSwatch is 42mm in diameter and 13mm thick. The material is made of Swatch's proprietary BioCeramic material, which is lightweight, scratch-resistant, it feels nice, and is just a genuinely cool matte finish. Besides the colors, the appearance is very similar to the original, including the exterior bezel and bombe style lugs. Some small differences on the new MoonSwatch are the sub-dial placements and logos, and an "S" lightly embedded into the dial instead of an Omega logo. But the coolest and most obvious difference, versus the original, is the vibrant range of colors present on this new collection offering.
---
The Difference
Besides, some small structural differences and the name "Omega Speedmaster" on it, the new MoonSwatch and the original "speedy" Moonwatch are two very different pieces. The original is a highly regarded, manual-winding movement built to an extremely high standard with stainless steel. Take a look below… you won't find that inside the new MoonSwatch.
Why Swatch?
Swatch has been collaborating with designers for decades, making it one of the most OG of established brands when it comes to branded collaborations. But what makes Swatch so iconic in its own right is the fact that it literally saved the Swiss watch industry; that's why Swatch is so well received. Now, not only has it provided affordable prices for people new to watches, it's also a brand that's truly self-deserving of a positive market reception.
The Effects of Collaboration
When hearing that two of the world's most popular and iconic brands will collaborate on a single timepiece, it's big news. This type of collab has potential to open the floodgates for further brand collaboration in the watch industry. Thanks to this trendy, affordable opportunity masterminded by Swatch Group CEO – Nick Hayek and Omega CEO – Raynald Aeschlimann, more people will have access to an experience they never thought possible; not to mention there's bound to be a few that will eventually go on to become huge watch nerds to join our ranks – it's definitely a win-win.
Tangible Nostalgia
The collection includes 11 watches, each inspired by the planets and celestial bodies within our solar system. On each of the 11 casebacks is an embedded image of its respective planet, with the image sourced directly from NASA. Each one has been made to celebrate a special event throughout the dynamic history between Omega and outer space.
For example, (above) the Mars variant (Red case with White bezel and Off-White dial) replicates the hands style from the 1972 Alaska-II Speedmaster Prototype. Code-named "the Alaska Project", this was a collaboration between Omega and NASA working on a watch suitable for professional grade reliability during outer space missions.
---
(Above) There's also the Moon variant (Grey case with Black bezel and Black dial) which includes 5% (percent) stainless steel powder added into their unique Bioceramic mix in tribute to the stainless steel Speedmaster Professional aka "the Moonwatch" that made it to the moon and back.
---
Time Will Tell
A little known rumor about the Pluto variant (Above) – (Gray case with Burgundy bezel and Off-White dial) may become verified fact come release day this fourth weekend of March 2022. Apparently the diameter of the Pluto variant is slightly smaller than the standard 42mm of the other celestial variants.
The Pluto variant diameter supposedly measures at 41.95mm – in subtle reference to Pluto's demotion from a regular planet to a "dwarf" planet. Hardly noticeable, but this minuscule size difference ironically speaks volumes about how precise Swatch is in terms of production, as well as showcasing a near perfect balancing act between product development, art, and modern science.
Taking Resourcefulness Beyond Bioceramic
It's rumored that Swatch's quality control has an allowable margin of error less than or equal to a little over 0.1% (percent) of the total case diameter. Each case that's found to be on the lower end of this tolerance gets allocated to the Pluto variant's production line. Perhaps, in an even bolder move than the brand collaboration itself is the alleged private allocation of the Pluto prototype to none other than Neil deGrasse Tyson, as tribute to his scientific contribution to planetary astronomy. Might have to pull out those calipers for this one – don't worry about scratching it though, it's Bioceramic!
Boxed Up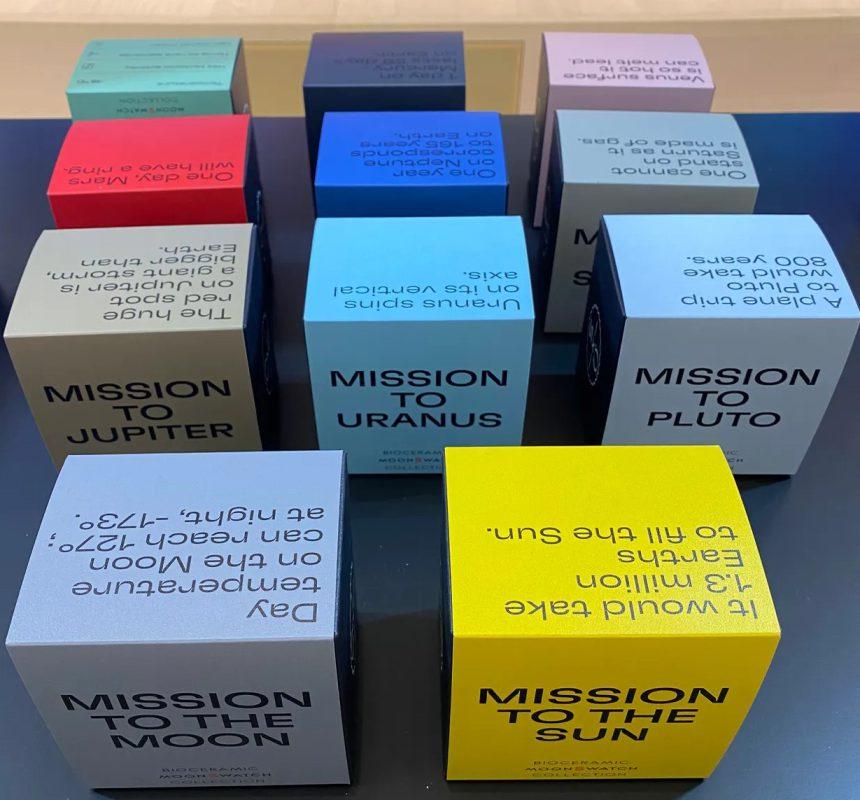 ---
My review of the "Moonwatch" On YouTube
---
Related Pieces we have in stock: